As my car passed a beat-up VW bus wearing a JEFFERSON AIRPLANE LOVES YOU bumper sticker, the hippie at the wheel flashed me a peace sign. How did he know I was a member of the tribe? Maybe he'd seen my car's ban-the-bomb decal or spotted my tent of frizzy hair.
"And these signs shall follow them that believe; in my name shall they cast out devils; they shall speak with new tongues … "
The words came back to me from the required Bible Study class I'd taken in college. So tiresome, reading texts from a faith I no longer believed in, but some of the language was surprisingly apt. We were speaking with new tongues, my generation. Our troubadour, Bob Dylan, was speaking right now from my car's radio, tuned to KYA, AM 1260, "the Boss of the Bay."
"Come mothers and fathers, throughout the land," sang Bob. "And don't criticize what you can't understand. Your sons and your daughters are beyond your command … " Right on, Bob! I was going home for Christmas, that's why I was driving south on the Nimitz Freeway on December 24, 1969; but not because my parents had commanded me. It had been years since they'd been able to command me.
The 90-minute drive felt like a frontier crossing. I was leaving Berkeley, West Coast headquarters of the revolution that was going to happen, oh, any day now, heading for Sunnyvale in the Santa Clara Valley, part of the dull conformist Establishment world that we intended to tear down.
My parents didn't belong to the tribe, of course. They weren't even Grey Panthers, those amazing elders who, despite their great ages – some were over 50! – agreed with us about war, civil rights, all the left-wing causes. Dad was a moderate Republican, Mom a moderate Democrat. Their votes cancelled each other out, Mom said, but they voted anyway because it was the right thing to do. Like Dad going to work for Lockheed every morning. Like Mom keeping the house immaculate and joining the PTA. Like both of them going to church on Sunday.
Oh, Lord. They'd be going to church. Which was Methodist and also moderate, but still, not my bag, man. Well, I wouldn't go. I would not be preached at. Mom had stopped fighting with me about church when I was in high school, but our relationship was still difficult. She represented so much that I was afraid of, that I needed to reject, and I hadn't figured out how to do that without rejecting her too.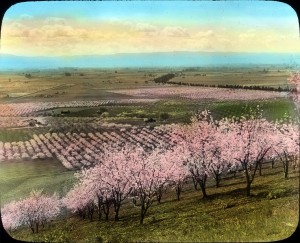 The Santa Clara Valley, soon to turn Silicon, had once been a farmers' paradise. Thousands of acres of fruit trees had blossomed in "the Valley of Heart's Delight," and the air in spring, said John Muir, "was the sweetest air I ever tasted." But there was nothing sweet about it now (except, the Establishment would say, for the good jobs, the good schools, the prosperity). The apricot, peach, and plum trees had been cut down in their green-leaved beauty, the rich land paved over, and it was subdivisions now, strip malls, gas stations, fast-food restaurants. The landscape of my childhood had always felt like a foreign country.
I met Mom just inside our front door. She was wearing nylons, a dress, shoes with small heels; her hair had been "done" at the beauty parlor. She had a coat on and her purse over her arm. It was ten minutes to eight. She didn't usually go out alone at night, and I asked where she was going.
"To the candlelit service at church," she said.
"By yourself? Where's Daddy? Where's Donna?"
My father was working, she told me. Retired from Lockheed, he'd taken a part-time job as a security guard. My sister was on a date.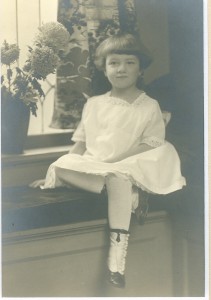 Mom was 55 years old. Her "Iowa complexion" still glowed like the Valley's sacrificed peaches, but her red hair had quietly turned the color of white wine. And why hadn't I noticed that she was shorter than me now? She seemed somehow … dwindled, I thought. But dignified, too, in a way that tugged at my heart. It was Christmas Eve, she had a husband and children, and she was going to church alone.
"I don't like having to leave you, honey, but it will only be for an hour," she said.
And I, callow and self-centered as I was, reached deep into my flower-powered self and found therein a small bloom of maturity. "I'd go with you, Mom," I said. "But I only brought a few clothes, and these are the best ones."
I was wearing dark-purple bell-bottoms with an orange and lime-green paisley pattern, a matching vest trimmed with fake straw, a lavender shirt with huge flowing sleeves, moccasins, and love beads.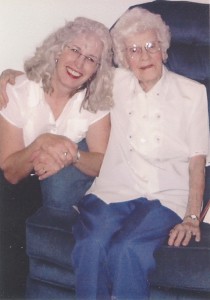 My mother smiled at me. "That's all right, honey. Lots of the ladies wear trousers to church these days."
At church, where she introduced me proudly as my daughter, candles glowed and people hugged and we sang hymns with beautiful words and music. The minister didn't preach at all, but talked instead about faith, love, and social justice.
"There is no fear in love; but perfect love casteth out fear."
My mother died in 2006 on my birthday, the day she always said was the happiest of her life. I miss her every day.
Jefferson Airplane loves you, Mom, and so do I. Happy Mother's Day.
Credits
Bible quotations are Mark 16:17 and 1 John 4:18 from the King James Version.
Dylan lyrics from Nashville Skyline, released April 1969.
Photo of Maxine Kuhn, activist who founded the Gray Panthers movement in 1970, from Social Justice for All, a website by Michael Hulshof-Schmidt.