"Want to work for us in Japan?" asked Hewlett-Packard. "We'll give you lots of money." So in April 1985 I moved to Tokyo. It was all rich and strange: tatami mats, nipple covers, small children traveling safely alone on public transport, amusing product slogans (on a packet of instant coffee: EASE YOUR BOSOMS). I learned a lot of Japanese, though I kept confusing densha with denwa and asking what time the phone for Kichijoji would leave the station. I also gave English lessons for my colleagues ("It's not 'super salad,' it's 'soup OR salad'"). Best of all, I made friends, whom I began to miss before my home-bound plane left Narita. I wrote Too Late for the Festival (Academy Chicago, 1999) to tell them, "You are subarashii" (wonderful).
My essay "Ramont Hall" in The House on Via Gombito: Writing by North American Women Abroad  (New Rivers Press, 1997) begins on a rain-soaked day in June 1973, when, aged 25 and traveling around Britain for the first time, I meet a dashing young red-haired Englishman in a café in London. Later, having accepted his invitation to "visit my family if you get as far north as Yorkshire," I take "A Walk on Hadrian's Wall" with his school-mistress mother, who tells me educational things about the Romans while we both get drenched in (you guessed it) more rain. Also: sheep.
New Rivers Press published a second anthology of women's travel writing, An Inn Near Kyoto, in 1998. My five essays about Japan include "All Shook Up" (welcome to Tokyo, here's an earthquake for you!) and "Burt's Final Fling," in which a farewell party is interrupted by the tail-swishing entrance of a giant Australian frilled lizard. Being published by New Rivers Press was a boon, and I remember their editor, the late C.W. Truesdale, with gratitude.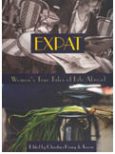 Seal Press is another of America's brilliant small publishing houses. I wrote about studying for an M.A. in Victorian Literature in late-1970s Liverpool for their anthology Expat: Women's True Tales of Life Abroad (2002). Did I get my degree, despite being a history major who'd never read Hardy, Eliot, or Meredith? Did I succeed in persuading an intellectual trio of English-rose graduate students to become my friends? And if so, was this because or in spite of the way I kept bounding up to them at odd moments and shouting, "Hey guys! Wanna go get some pizza?" Answers in "The Liverpool School of Dream and Pun."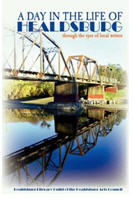 In 2003, nine writers in Healdsburg, California participated in a workshop that sent us all over the Sonoma County wine country town to observe and write about places of interest. While the other writers got great material at the Plaza, the animal shelter, the cemetery, and Ramos Shoe Repair, I spent the day with the Healdsburg police (odd choice for an ex-hippie?), and came away thoroughly impressed by our local force. My essay for A Day in the Life of Healdsburg is called "On the Beat."