I'm not sure which Mom noticed first: his crooked grin or the twinkle in his eye. Or was it his straight, aristocratic-looking nose, which he passed on to me? Not the actual nose. I mean, I've got one of my own.
And where did I get my obvious jokes? Read on.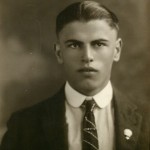 "Back in the 1930s," my father wrote on a scrap of paper in my possession, "I was a rural carrier out of the San Fernando P.O. It was the 2nd longest route in Calif. I met my wife in the Post Office. I tell people we met in the Dead Letter office!"
Yes, his jokes were cornier than my mother's native state, Iowa. If you said, "Leave me alone," he'd ask, "How big a loan do you want?" Grind the gears while you were driving and he'd say, "Grind me a pound if it's fresh." Tell him to "cut that out" and he'd reply that he didn't have any scissors.
His best joke was the one about Honeymoon Salad. And what's that, Jim? "Lettuce alone without dressing."
Meanwhile, back at the ranch …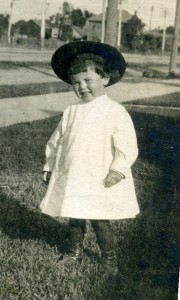 My dad was born in 1903, so long ago that he wore dresses as a toddler. (In my family, we get married late or not at all and have children late or not at all. Not enough Honeymoon Salad?)
His father had emigrated from Wales in the 1880s and bought 200 acres in southern California. Malibu? Hollywood? Beverly Hills? No. With that genius for not making money that I inherited along with the nose, my grandfather bought land in the chaparral-covered, rattlesnake-infested foothills of the San Fernando Valley.
My dad grew up on "the ranch," as they grandly called this spread, with his parents and two sisters. The house was small and wood-framed. I remember a fireplace and (I think) a wood-burning stove, and my grandfather's old-fashioned "cut-throat" razor strop hanging in the bathroom.
There was a grove of avocado trees, tall as houses, which I loved to climb, and an arbor covered with Concord grapes. But that huge pile of abalone shells: what were they doing there, miles from the sweet Pacific, flashing their grey-tinted rainbows in the San Fernando sun?
Dad was a star athlete at San Fernando High School and went to the University of Southern California on a football scholarship. Then the Post Office, then Lockheed, and then he married my mom. In the late 1950s, he got transferred to Lockheed's Sunnyvale plant, and we moved north to the Santa Clara Valley just as it was turning Silicon.
Are we there yet, Daddy?
Like my mom, Dad was a Methodist and a teetotaler. He never swore. When really angry, he'd say, "Rats" or "Son of a sea cook!" He was shy, hiding behind his jokes and his books.
He loved to drive. We spent our vacations on the road, leaving in the wee hours "to avoid the traffic," Dad carrying my sister and me, when we were little, out to the car in our pajamas. His "scenic routes" were another family joke, like the "hysterical monuments" at which we always had to stop.
He loved poring over books and maps. He loved touring places like lumber mills, chewing-gum factories, and wineries. He loved mountains, redwoods, and the ocean. He loved ships.
He would probably have loved to pass his days reading books, studying maps, traveling, learning things. And telling jokes. The scrap of paper from which I quoted above is one of dozens, all covered with his old-fashioned handwriting, studded with puns and multisyllabic words. He would have loved blogging and Twitter.
Rehearsing with the poodle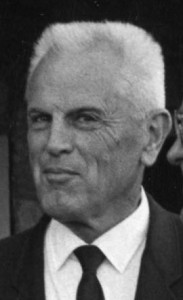 Instead, he worked. After retiring from Lockheed at 65, he got a job as a tour guide for Paul Masson winery. Anxiously, he rehearsed his patter in our garage, talking for hours into a sprinkler head that stood in for the microphone, to an audience consisting of our poodle, Gigi.
One of the wines was called Baroque. "With this wine," he would say, "Paul Masson has really gone for ba-roke." Did Gigi bark encouragingly? Anyway, the tourists liked it. In the same way that my dad kept all my report cards, I've kept the letters they sent to Paul Masson saying how much they enjoyed Jimmy's tour.
Regrets? I've got a few
I wish I'd asked him about the abalone shells. And about growing up in California at the turn of the century. What was LA like before cars? And how did it feel to work as hard as he did and spend all his earnings on his family? I'm guessing he'd say that we were worth it.
When he died in 1993, I thought he'd given me everything he could: sense of humor, chronic job-anxiety, love of books and words, wanderlust, and the American Heritage Dictionary of the English Language. Not to mention the nose. No more gifts could be expected from the man I called Poochie.
One more gift from Poochie
I was at a low ebb a few months ago when I picked up The House on Via Gombito. A travel anthology from New Rivers Press, it's the book in which I got published for the first (and still almost only) time. What are the chances, I thought, that I'll ever get published again? Nil. Nada. Might as well pack it in. Who cares? It's not like anyone ever believed in me as a writer.
Like I said: low ebb.
I opened the book and saw that it was the copy I'd given to my parents. "For my mother and father with much love, Christmas 1991." I hadn't looked at it since I'd found it among my mom's things after she died in 2006. Now, moved by some impulse, I turned to the dedication page.
"This book," wrote the publishers, "is dedicated to all great women travelers, especially Eurydice, Margaret Fuller, Martha Gellhorn, Nor Hall, Mary McCarthy … "
At the end of the list, in his old-fashioned handwriting, my father had printed: RHIANNON PAINE.
Good fathers of the world, know that you will inspire your children with love and gratitude, determination and, "Dad? I miss you," long after you're gone.
Happy Father's Day.