I got on Twitter because of Eddie Izzard's feet.

Let me 'splain, as Desi used to say to Lucy. As a member of C.L.A.M. — Chronic Late Adopters Mob — I had just discovered the actor/comedian when he started running 7 weeks of marathons around the UK for the charity Sport Relief.
When you first discover something, you're anxious, right? You're like, "OMG, this is great! But what if they take it away?" And then you get blasé. If Izzard announced tomorrow that he's flying to Jupiter on wings made of jam, I'd be all, "Fine. Catch you later."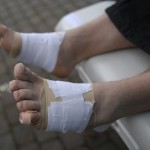 But in the dim mists of time to which I refer (September 2009), I had visions of the dear old "action transvestite" dying of infected blisters before his pen, or in his case mouth, could glean his teeming brain.
To allay my anxiety, I turned to Twitter, a new-fangled Social Media thingy espoused by crazy young kids like Stephen Fry, and clearly not for the likes of me (viz: C.L.A.M.). But it would keep me current vis-à-vis the Izzard feet, and I could quit as soon as he packed in the marathons or died in his trainers, whichever came first.
50 ways (some not listed here) to love your Twitter
Most of you don't belong to C.L.A.M. At least, I haven't seen you at the meetings – though, you in the back there, with the Annie Hall tie and the saddle shoes? You look familiar. The rest of you probably couldn't wait to "tweet" to strangers, whereas I waited for years and then got instantly hooked. Here's why.

Around the world in 140 characters or less. I love to travel, meet interesting people, and talk to them. But will that pay the bills? Yes? Please tell me how! While I wait to hear from you, I'll be tweeting with peeps in Ohio, Baltimore, Florida, Japan, London, L.A., Dublin, Berlin, Edinburgh, even outer space (astronauts on Twitter).
Horizons? Broadened. Like most people, I tend to hang out with folks like me: Scottish Country dancers, writers, fellow members of C.L.A.M., the genetically sports-averse. Now, thanks to Twitter, I'm also in touch with techno-geeks, mountain climbers, artists, musicians and conductors, football/darts/snooker/cricket buffs, and members of other exotic tribes.
Where, O Death, is now thy sting? On Twitter, @DrSamuelJohnson is still working on his Dictionary, @JudgeJeffreys is always ready to hang 'em, and @SarahSiddons is still very fond of Byron. But @willshake has updated his diction a bit: "Love is not love which alters when it alteration finds. Unless it doth have a dating prenup, yo."
Fiction? Get real! Tower Bridge is on Twitter ("I am opening for the SB Cabby, which is passing upstream"), and so is Big Ben (BONG BONG BONG BONG). Even better, @feministhulk is on Twitter, making me laugh daily with tweets like: DEEPLY ENTRENCHED PATRIARCHAL IDEOLOGIES HARD TO SMASH. THAT WHY HULK ALWAYS STRETCH FIRST.
Do good! Twitter makes it easy to find and give to charities like malaria nets and She's the First. And, of course, Sport Relief (I figure I donated about $5 per Izzard blister).
Learn stuff! Interested in haiku? Follow @apwpoet. Need names for characters? Check out @insearchofnovel.  Whatever you're interested in, you can learn more about it on Twitter.
Hob-nob with the famous. Okay, it's a tweet-based illusion that people like @NickKristof, @JonSnowC4, and @johannhari101 want me to know what they're thinking, but still: I get to know what they're thinking. And Jon Snow did tweet me once, bless his colorful ties.
People have fun with Twitter. If it's not @jupitusphillip doing #tomsontoast or the Great Cornish Pasty Hunt, it's @paul_steele and an international cast of tweeters singing the hell out of songs like Sweet Caroline. Plus games like #mathsfilms (Angles in America) or #lessmachofilms (The Call of the Mild).
No tweep is an island

As @johndonne might say: "Every person's life involves me, for I am involved in mankind. And therefore, never send to know for whom the tweet comes: it comes for thee."
Now, share, please: what got you started on Twitter, and what do you love (or not) about it?
And don't forget to stretch first.